Bullet journal tutorial: Create a magnificent weekly planner
Published : 06/15/2021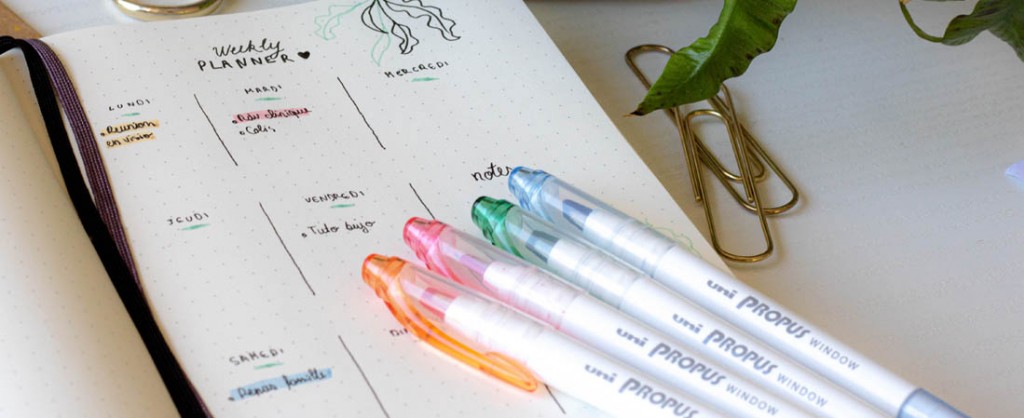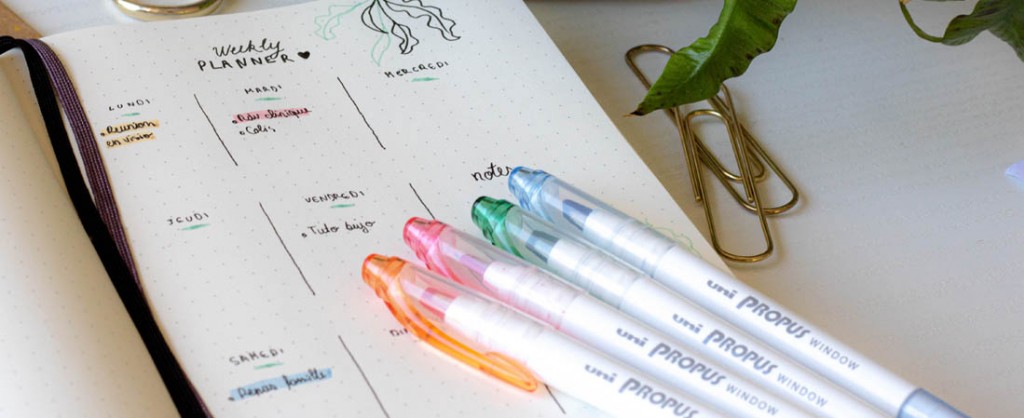 For all fans of bullet journals, and those who would like to get into it, we've prepared a new tutorial! For stay organised and motivated as we get closer to the summer holidays, we really like grouping objectives and things to do together in our bullet journal and giving it, every week, a nice colourful presentation. So here we'll show you how to create a weekly planner which will be enlivened by our Uni Propos Window highlighters!
Tutorial level: Beginner / Advanced / Expert
For this tutorial, you will need:
 

Our pdf template, available here
A bullet journal or another notebook
1st step: The materials
No doubt you already know our Uni Pin range. Felt-tip pens for precise writing and drawing, with its ink which, as well as being covering and intense, won't go through the pages of your precious bullet journal.
In this tutorial, we've used a 0.6 mm tip for the fixed elements of the weekly planner (titles, columns, drawings) and a finer tip (0.2 mm) for writing the week's events inside.
Finally, the Uni Pin pens have found their partners: the new Uni Propos Window highlighters. Their double-tip will allow you to write and highlight with the same colour.
Everything you need to make the things that matter to you stand out!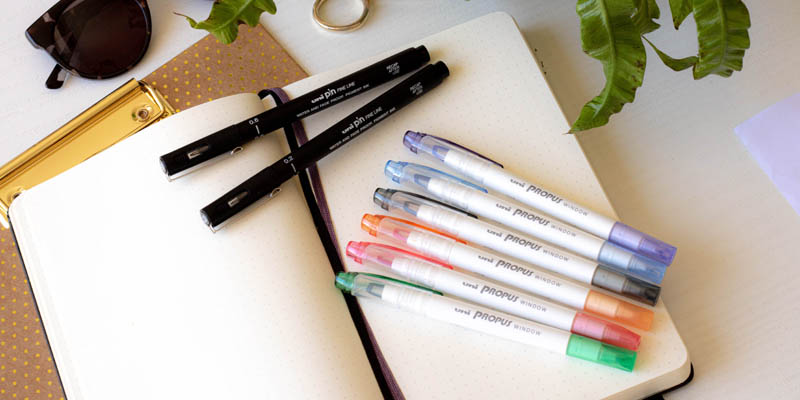 2nd step: The structure of your weekly planner
After downloading our template, you can now reproduce it on your page, with the help of the black Uni Pin felt-tip pen (the thinnest tip in your selection)
With a space assigned to each day of the week and a space reserved for different notes, it's the outline of your plan for the week, which you can then colour in!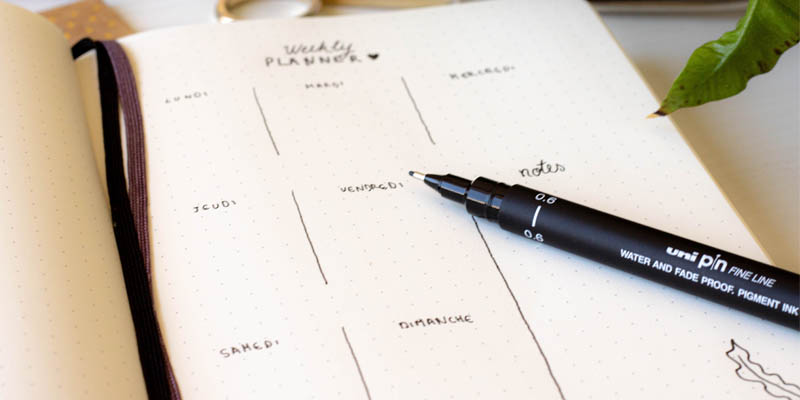 3rd step: Add touches of colour!
The thing we don't want is a gloomy weekly planner. The patterns created with the Uni Pin felt-tip pens won't be alone for long! Luckily, our Uni Propos Window highlighters are here to bring some colour! With the help of the fine tip, reproduce plant patterns and other decorations from the template to decorate your page. Of course you can opt for the illustrations fo your choice and vary them over the coming weeks.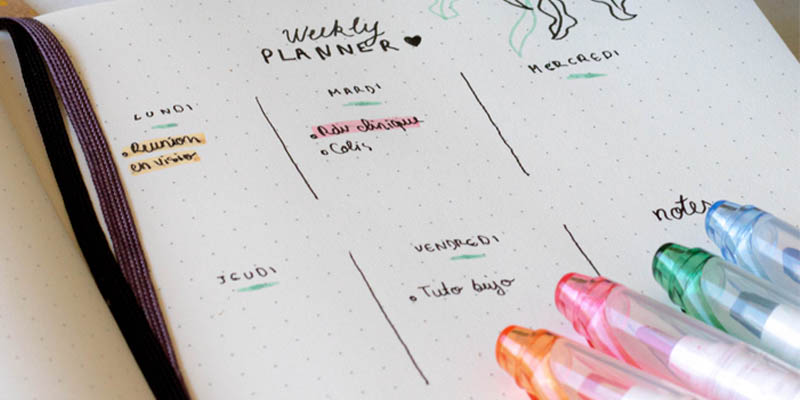 Regarding the colours, you can opt for soft and subtle pastel colours or the more original "smoky" effect colours, or even both, anything is possible!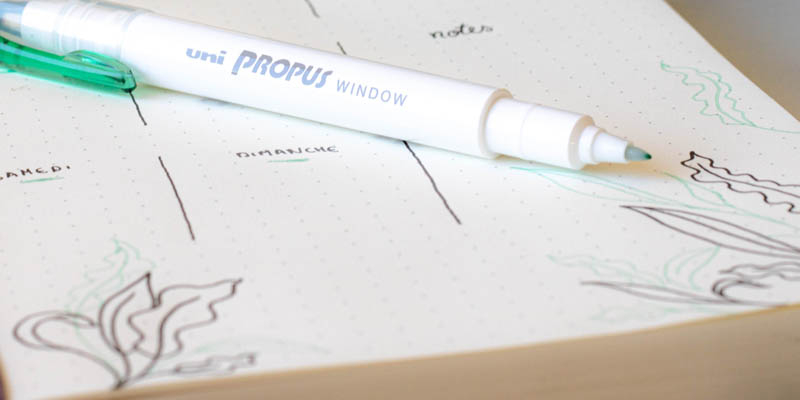 4th step: What have you got planned this week?
It's time to fill in your weekly planner! Important meetings, birthdays, assignments to submit... everything can be written down on the corresponding days to have a clear and precise overview of your week.
For writing down these weekly events, we've opted for a finer Uni Pin tip (0.2 mm), in order to properly distinguish them from the titles and the fixed elements of the template.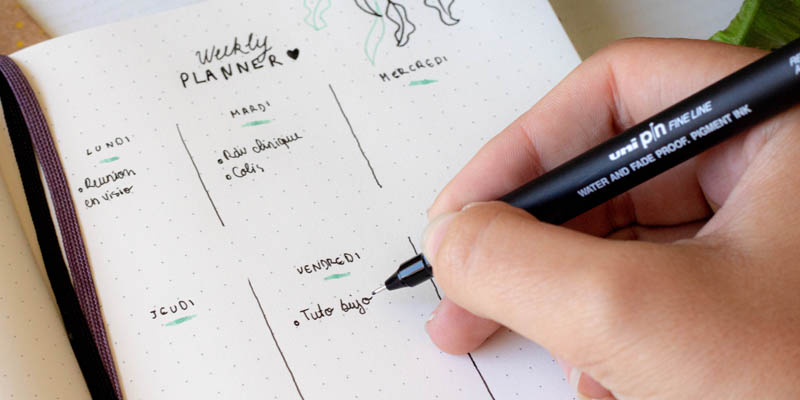 You can then implement a colour code depending on the elements written down in your planner so you can see what's going on. For example, professional or school tasks in orange, medical appointments in pink... thanks to the transparent highlighter tip of our Uni Propos Window, you will see exactly what you're highlighting. So practical, right?
Are you one of those people who only likes highlighting a task when it's finished? Well the Uni Propos Window highlighters will accompany you throughout the week !
5th step: An organised week on the horizon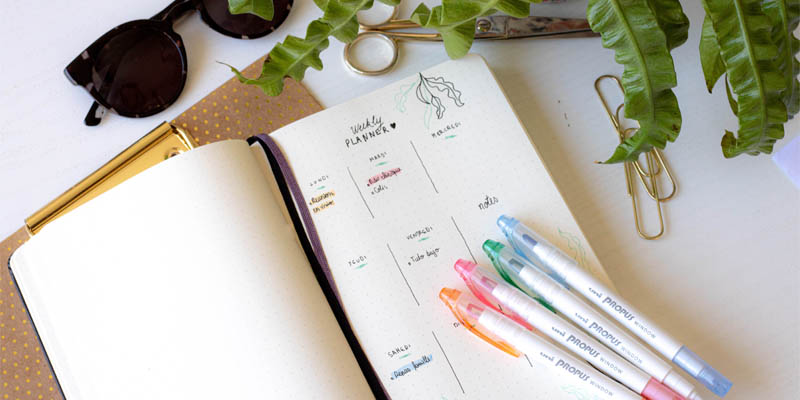 Your weekly planner is ready! Now you have to follow it, and you can create an entirely new page next week. Do you already have an idea of the theme or the patterns in your head?
Share your weekly planner with us and your special organisation tips, we'd love to share them with our community!
Share your weekly planner with us and your special organisation tips, we'd love to share them with our community!